© theartistsagency, 2023
agency
Wednesday 3 October - Saturday 27 October 2018
Eagle Gallery EMH Arts
159 Farringdon Road
London EC1R 3AL
Artists Evening: Wednesday 10th October 6pm - 8pm
Andrew Carnie, Maria Chevska, Laura Daly, Permindar Kaur, Gayle Chong Kwan, Gary Clough, Elpida Hadzi-Vasilva, Alice Kettle, Charlie Murphy, Jonathan Parsons, Benedict Phillips, Terry Smith, Susan Stockwell, Alia Syed and Stephen Turner.
Please join us for:
Artist Evening: Wednesday 10 October 2018 6pm – 8pm
 
agency brings together works by the artists currently supported by theartistsagency, an innovative approach to continuing professional support, advice, advocacy and practice development for contemporary visual artists by Mark Segal. The agency aims to champion individual artists, to support independent practice while negotiating the structures that can influence opportunities.
____________________________________________________________________________________________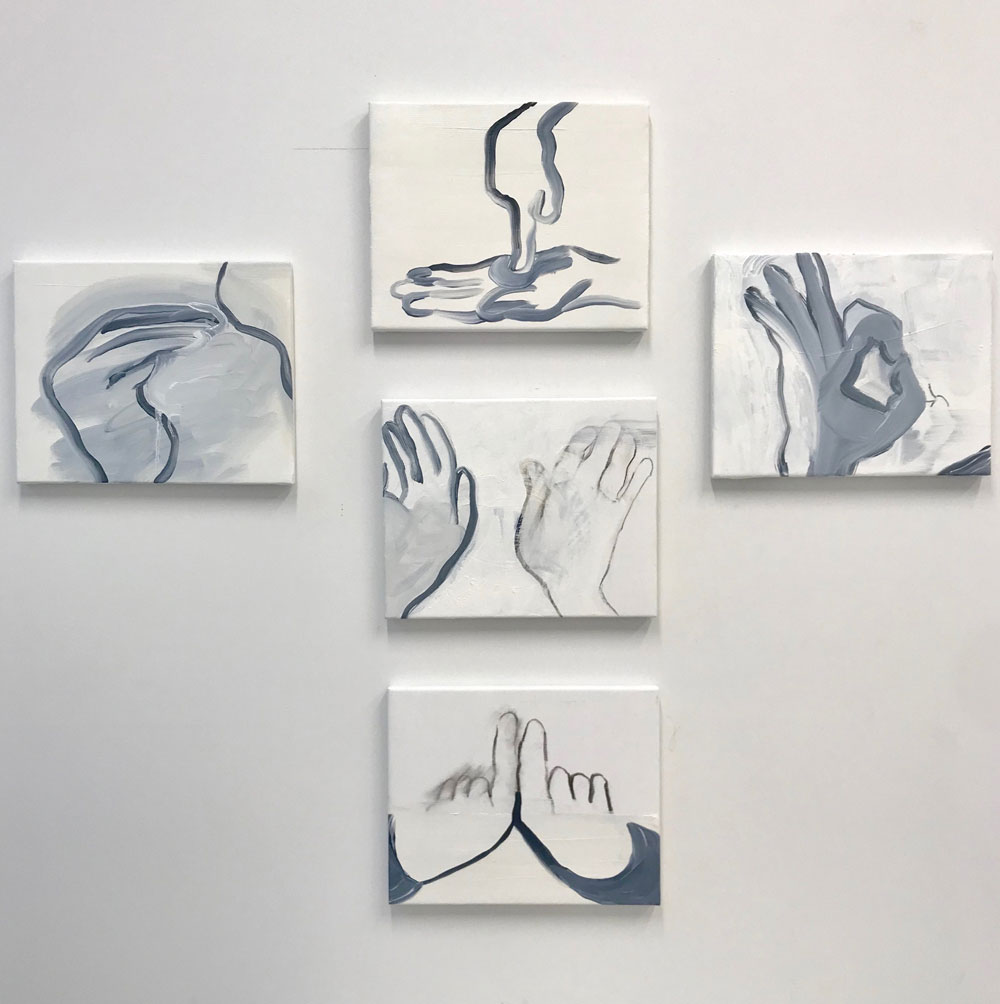 Maria Chevska, Supplemento, 2018, oil paint on linen, overall dimensions: 107xm x 107cm, each (5): 30cm x 24cm
_____________________________________________________________________________________________
In the last two years the agency is and has supported the artists Stephen Turner and the tour of his Exbury Egg; Gayle Chong Kwan with her The People's Forest, for the Barbican and William Morris Gallery; Gary Cloughs' recent exhibition in Chatham; Elpida Hadzi-Vasileva for her new commission for the Forest of Dean and new public works for Nottingham University; Benedict Phillips How to be a Dyslexic Artist as well as Alice Kettle's Thread Bearing Witness for Winchester Discovery Centre and the Whitworth, Manchester. New projects with Laura Daly, Permindar Kaur, Susan Stockwell, Terry Smith, Stephen Turner and Maria Chevska are in development and/or awaiting funding.
Several of the artists show work derived from video, film or computer-based practice, including Laura Daly's paintings considering motion, and Syed's composite image derived from combining film negatives. Andrew Carnies Heartwork represents his highly regarded activities across art and science. Permindar Kaur's small birds are representative of her apparently attractive but threatening sculptures (recently included in Turner Contemporary's Animals and Us); Gayle Chong Kwan shows work from her Blueprintseries; Gary Clough's embroidery evidences his continuing interest in drawing and journey complimenting Alice Kettle's more abstract small stitched works, a respite from the rigours of making Thread Bearing Witness (currently on show at the Whitworth, Manchester). Charlie Murphy's work is one result of her recent residency with Created Out of Mindat the Wellcome Hub. Elpida Hadzi-Vasileva's sculpture is one outcome of Wellcome Trust R&D funding to work with medical researchers. Jonathan Parsons' grid painting is the latest in an ongoing series that seeks to reduce a picture down to something like fundamental constituents: brush marks; colours; configuration; illusion. Benedict Phillip's photograph comes from his continuing enquiries through an alternative dyslexia persona, contrasting with Maria Chevska's painting reflecting her continuing interest in language and communication. Terry Smith contributes work(s) for a New York performance. Susan Stockwell's Finesilver-Blackgold draws upon the historical slave trade while commenting upon globalisation. Stephen Turner is showing his Resurrection Egg, an egg produced from the found feathers of a dove, made on a residency in Exbury in 2014.
theartistsagency at Eagle Gallery AMH Arts
159 Farringdon Road
London EC1R 3AL
 
Open: Wednesday –  Friday 11am – 6pm & Saturday 11am – 4pm
Contact: Mark Segal: 
Email: mark@theartistsagency.co.uk
Tel: +44(0)7976267978